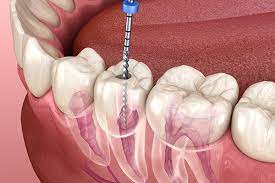 Introduction
Understanding Endodontic Treatment
Endodontic treatment, also known as root canal therapy or pulp therapy, is a dental procedure aimed at treating the infected or damaged pulp tissue inside a tooth. The primary objective of this treatment is to save the tooth by removing the infected pulp, cleaning and disinfecting the root canals, and then filling and sealing the space.
The Importance of Choosing the Right Technique
In recent years, advancements in endodontic techniques and tools have made the root canal treatment process more efficient and successful. Two main approaches are used in endodontic procedures: manual (hand) endodontics and rotary (mechanical) endodontics. This article provides a comprehensive comparison between these techniques, examining their pros and cons, and helps you make an informed decision for optimal endodontic outcomes.
The Basics of Manual Endodontics
Traditional Endodontic Methods
Manual endodontics, also known as hand or traditional endodontics, involves the use of hand files for canal shaping and cleaning. These files are made of stainless steel (SS) and come in various sizes and tapers. The most common types of hand files are K-files and H-files, which have different cutting actions and flexibility.
Hand Files in Canal Shaping
The process of manual canal shaping involves a series of steps:
Establishing a glide path
Apical preparation
Coronal and middle third preparation
Smoothing and finishing
Manual files are introduced sequentially, with each file gradually increasing in size and taper. This process requires a high level of skill and precision to avoid endodontic mishaps such as instrument fracture, ledging, or perforation.
Stainless Steel Files: Pros and Cons
Pros:
Affordable and widely available
Good tactile feedback for the operator
Effective in narrow and curved canals
Cons:
Time-consuming
Steeper learning curve
Higher risk of instrument fracture and canal transportation
Embracing Rotary Endodontics
Advancements in Rotary Endodontic Technology
Rotary endodontics, also known as mechanical or engine-driven endodontics, utilizes electric or air-driven handpieces and Nickel-Titanium (NiTi) files for root canal treatment. NiTi files are more flexible and resistant to fracture compared to stainless steel files. Rotary systems, such as WaveOne and ProTaper, use either continuous rotary motion or reciprocating motion for instrument advancement and have revolutionized the field of endodontics.
Nickel-Titanium (NiTi) Files for Efficient Canal Preparation
NiTi rotary files offer several advantages over their stainless steel counterparts, including:
Enhanced flexibility
Greater resistance to cyclic fatigue
Faster canal preparation
These attributes make rotary endodontics a popular choice among practitioners, especially in cases with complex root canal anatomy.
Some of the most popular rotary endodontic systems include:
WaveOne Gold
ProTaper Gold
HyFlex CM
EdgeFile X7
Vortex Blue
Each system has its unique features, cutting efficiency, and file design, which contribute to the overall success of the root canal treatment. You can explore more about these systems and other endodontic tools at Dentalkart.
Manual vs Rotary Endodontics: Key Differences
Time Taken for Manual and Rotary Endodontic Procedures
One of the most significant advantages of rotary endodontics over manual endodontics is the time taken to complete the procedure. Rotary instrumentation is considerably faster, reducing chair time for both the practitioner and the patient.
Safety and Effectiveness of Manual and Rotary Endodontic Files
Safety and effectiveness are crucial factors to consider when comparing manual and rotary endodontics. Rotary NiTi files are known to be more flexible and resistant to fracture than stainless steel files, which reduces the risk of instrument breakage and canal transportation. This improved safety profile translates to more predictable and successful endodontic outcomes.
Success Rates of Manual Versus Rotary Endodontics
Multiple studies have shown that rotary endodontics has a higher success rate than manual endodontics. This is attributed to the improved cleaning, shaping, and overall efficiency of rotary systems. Additionally, the reduced risk of procedural errors and mishaps contributes to the higher success rate associated with rotary endodontics.
Conclusion
Making an Informed Decision: Pros and Cons of Manual and Rotary Endodontics
In conclusion, both manual and rotary endodontics have their advantages and disadvantages. While manual endodontics may be more affordable and provide better tactile feedback, it can be more time-consuming and prone to procedural errors. On the other hand, rotary endodontics offers improved efficiency, safety, and success rates, but may require a higher initial investment in equipment and materials.
Achieving Better Endodontic Outcomes for Patients
Ultimately, the choice between manual and rotary endodontics should be based on the specific needs of the patient and the expertise of the practitioner. Familiarity with both techniques is essential for dental professionals, as it allows them to tailor their approach to each case and achieve the best possible endodontic outcomes for their patients. By staying up-to-date with advancements in endodontic technology and incorporating evidence-based practices, dental professionals can continue to improve the quality of care they provide and ensure the long-term success of root canal treatments.