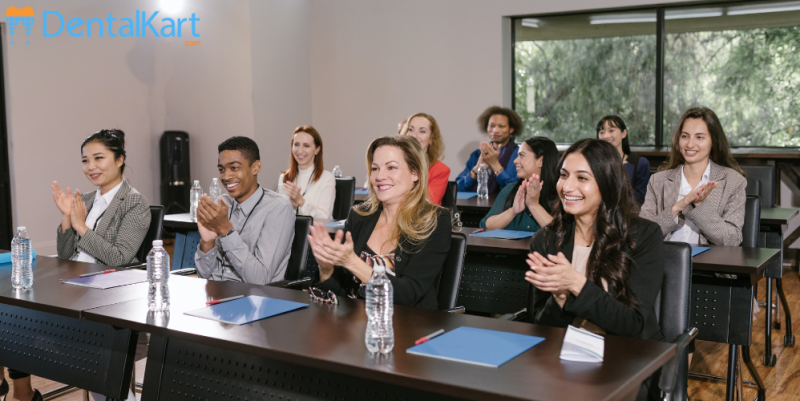 Dental conferences are much more than mere gatherings of professionals; they are vibrant hubs of knowledge, networking, and inspiration. Attending conferences can open doors to a world of opportunities, offering dental practitioners and enthusiasts alike a chance to immerse themselves in the latest trends, connect with peers, and enhance their careers. In this blog, we will delve into ten remarkable benefits that dental conferences confer upon attendees, underscoring the pivotal role that conferences play in the dental community.
1. Conference Learning: The heart of any conference is its educational content. Dental conferences offer a curated selection of sessions, workshops, and lectures that cover a wide array of topics. By participating in these sessions, attendees can enrich their understanding of dental practices, emerging technologies, and innovative techniques. The knowledge gleaned from conferences allows dental professionals to broaden their skill sets, ultimately improving patient care.
2. Networking Extravaganza: The power of networking at Conferences cannot be overstated. These events draw a diverse crowd, including dentists, hygienists, educators, researchers, and industry experts. Engaging in conversations with fellow attendees can lead to invaluable connections, mentorship opportunities, and the exchange of insights. These newfound relationships can endure long after the conference concludes.
3. Trendspotting at Conferences: Dentistry is a field in constant flux, with new technologies and trends surfacing regularly. Dental conferences serve as showcases for the latest advancements, from state-of-the-art equipment to groundbreaking treatment modalities. Staying up-to-date with these trends is vital for dental professionals, enabling them to elevate their clinical practice and remain competitive.
4. Business Insight: In addition to clinical knowledge, conferences often feature sessions on practice management and business strategies. These insights can empower dental practitioners to optimize their operations, enhance patient satisfaction, and achieve overall practice success. Learning from experienced professionals can provide valuable guidance on navigating the complexities of the dental business.
5. Product and Tech Showcases: Dental conferences feature extensive exhibitions where companies exhibit their products and technologies. This offers attendees a hands-on opportunity to explore cutting-edge dental equipment, materials, and software. Engaging with industry experts, asking questions, and making informed decisions regarding the integration of new technologies into their practice are all possible at these showcases.
6. Research Insights: Research is the lifeblood of dentistry's advancement. Conferences often host presentations on groundbreaking research and evidence-based practices. Exposure to the latest research can inspire dental professionals to incorporate evidence-based dentistry into their clinical practice, ensuring the most effective and scientifically validated treatments for their patients.
7. Inspirational Moments: Dental conferences are not just about knowledge; they are also fountains of inspiration. Listening to renowned speakers and experts in the field can reignite one's passion for dentistry and offer motivation to excel in one's career. Conferences frequently feature thought-provoking discussions and presentations that leave a lasting impact on attendees.
8. Cultural and Travel Experience: Many dental conferences are hosted in attractive destinations around the world. Attending these conferences allows professionals to combine professional development with travel and cultural experiences. Exploring a new city or country can be a rewarding aspect of attending conferences and can add an extra layer of enjoyment to the learning journey.
9. Elevating Your Professional Brand: Participating in Conferences can help establish one as a thought leader and expert in the field. Presenting research findings or speaking at conferences can boost professional credibility and visibility within the dental community. This recognition can open doors to new opportunities and career advancements.
In conclusion, Conferences are pivotal events that offer a wealth of opportunities to dental professionals and enthusiasts. These gatherings provide an avenue to access knowledge, connect with peers, and stay at the forefront of industry trends. To maximize one's potential in the field of dentistry and provide the best possible care to patients, make attending dental conferences a regular part of your professional journey. Conferences are not just events but transformative experiences that can propel your dental career to new heights.
Related Article: The Harmony of Dentistry and Business: A Symphony Every Dentist Must Master